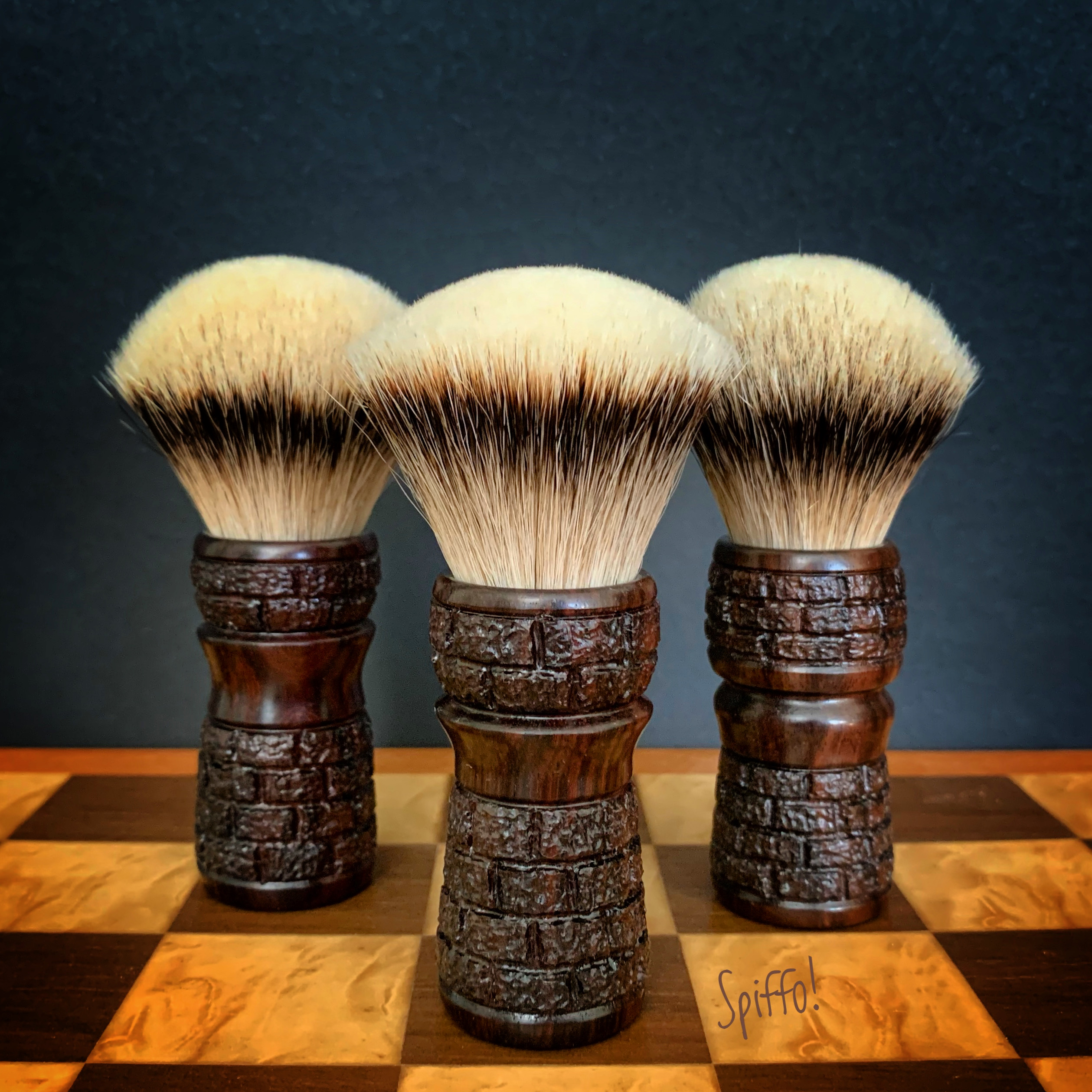 There is no discounting the beauty and the feel of wood. There is just something about it that makes it so appealing. In fact, the long-standing popularity of wood handled shaving brushes have made them a wetshaving tradition!
However, when it comes to care and maintenance there are a few extra considerations to keep in mind.
First and foremost, raw wood by its very nature is hygroscopic, meaning that it will absorb water both from immersion and/or the atmosphere. With prolonged exposure this can cause a variety of issues like discolouration, swelling, cracking, deterioration, rot, etc.
However, with an extensive finishing technique along with proper care and maintenance these concerns can be minimized, possibly even avoided.
We take our finishing technique, one that we have developed over the years, quite seriously. Once the wood handle has been turned to shape and sanded we apply approximately 8 coats of finish, depending on the wood species. We begin with at least two coats of tung/teak oil, similar to what is used on the wood of sailboats. This permeates the wood for deep protection. We then follow this with four to six coats of a surface polyurethane finish. These finishes are dried between each coat for a minimum of twenty-four hours, creating a durable covering. Although this finishing process takes a couple of weeks to complete we feel that the result is worth the effort.
On the user's end we suggest that:
the handle is dried off with a towel after each use
the brush is stored hanging, with the knot down, until the knot has dried.
the brush is never left in the shower, if that is where one shaves.
the brush isn't left soaking in water for an unnecessary amount of time.
While there can't be any guarantee that this will totally eliminate this natural tendency of wood it will certainly minimize it.
One thing of note is that wooden handle shaving brushes have been around for well over a hundred years and a lot of them are still in use today!
Click here for more shaving brush care and maintenance tips.